Kirkstall Forge Station, West Yorkshire's latest railway station, welcomed its first passengers on Sunday 19th June, with first train arraiving from Leeds at 8:38am.
The station is part of a major new development in Kirkstall comprising 1,050 new homes, 300,000 square feet of office space and 100,000 square feet of retail, leisure and community space adjacent to the station. The development will create around 2,400 new jobs.
The new station has been a huge success with the local population, with many people turning out to see the first train arrive. The opening ceremony was held on Monday 27th June, with the Under Secretary of State for Transport, Stuart Andrew, taking care of official duties. Also in attendance were Leeds Councillor Judith Blake, The Chair of the West Yorkshire Combined Authority (WYCA) Councillor Peter Box, Chair of the Leeds City Region Enterprise Partnership (LEP) Roger Marsh, Commercial Estates Group's (CEG) Development Director Jon Kenny, Network Rail and Northern Rail.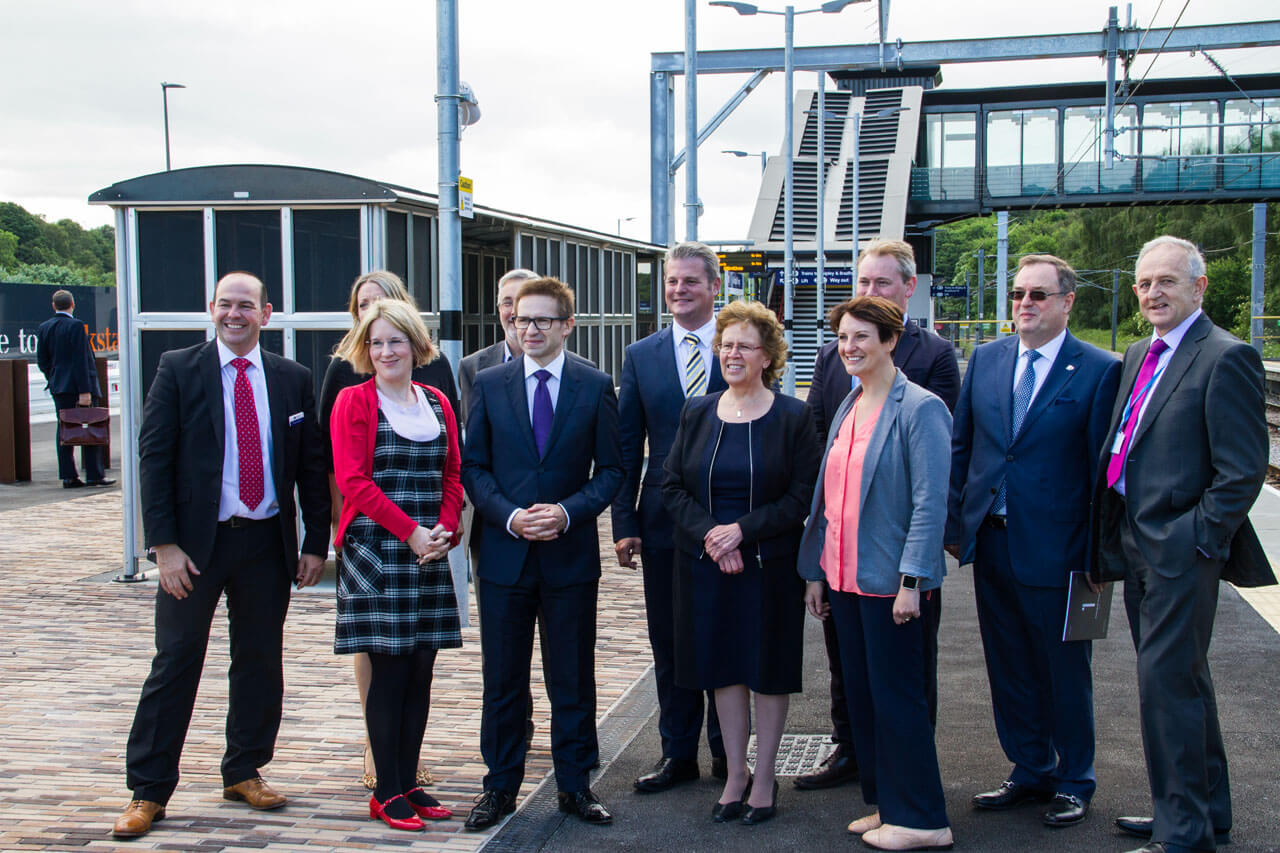 Hull-based Spencer Group handed over completed works to WYCA (in partnership with Leeds City Council, Network Rail, Northern Rail and Commercial Estates Group) prior to the opening of Kirkstall Forge Station. Initially, one train per hour will call at the station in each direction, with additional services during the morning and evening peaks.
Spencer Group's work involved the construction of two new platforms, each measuring 100 metres in length, using cross-wall and plank construction techniques. Modifications to four existing OLE masts were undertaken to suit the new platform layouts, with six new OLE masts and one gantry installed.
New entrances to the station, created in line with standard Network Rail access points, include a modular footbridge, lifts, stairs and ramp facilities. A 300-tonne crane was used during a possession to install two columns, two bridge decks, two lift shafts, two stair cases and a spanning bridge deck.
A car park was installed to accommodate 129 car parking spaces and a pick-up/drop-off point. Lighting and drainage to both platforms and carpark was provided to current DDA standards. 12 lighting columns were installed to Platform 1 and 13 to Platform 2.
A new Distribution Network Operator (DNO) power supply was provided for the station, and ancillary civil works were also completed for the provision of power supplies, including an Under Track Duct (UTX).
7,500 tonnes of earth were moved during the job, and 47,000 clay pavers were laid. 62,500 man hours were worked in total.
Dave Taylor, Project Director for Spencer Group at Kirkstall Forge Station, commented: "We are delighted and proud of our work on the new station at Kirkstall Forge, which is going to be crucial in rejuvenating this part of Leeds.
"During the project, we were based on CEG's site – the developer for the adjacent development. We interfaced with them particularly well and developed a great rapport. For our part in the scheme, there were zero RIDDORS and the project was delivered extremely safely – which is something we always strive for."
Together with Apperley Bridge Rail Station, which opened in December 2015, Kirkstall Forge is part of West Yorkshire's £15.9m Rail Growth Package. Leader of Leeds City Council Judith Blake said: "It is fantastic news that rail services to the new Kirkstall Forge Station have opened. The station has a key role to play in realising the major regeneration potential of the broader Kirkstall Forge development, bringing with it new jobs, training opportunities, housing and a range of office and leisure facilities to offer a significant boost to the local economy.
"We look forward to seeing lots of people making use of the new station and Kirkstall Forge as a prime destination as well as a gateway to the city centre and beyond in the weeks, months and years to come."
The station is on the busiest stretch of the Airedale and Wharfedale rail lines between Leeds and Shipley and is located adjacent to the former Kirkstall Forge industrial site off the A65, three miles Northwest of Leeds City Centre.