Two leading Hull-based companies are backing business leaders in their quest to conquer Mount Kilimanjaro to support the transformation of the city's historic Holy Trinity Church.
Specialist engineering business Spencer Group and experts in safety Arco and have become the first members of the Holy Trinity Kilimanjaro challenge "Summit Club", pledging more than £5,000 each towards the team's £100,000 fund-raising target.
The nine-strong group, including executives from several prominent Hull-based companies, will tackle the ascent of the world's fourth highest mountain, climbing nearly 20,000 ft (5,895 metres), beginning their climb tomorrow (September 20).
The "Team Kili" challenge is the latest fund-raising drive as part of a £4.5m development project which is putting 700-year-old Holy Trinity at the centre of Hull's exciting regeneration.
Andy Parkinson, Spencer Group's Director of Strategy and Innovation, said: "Our Executive Chairman Charlie Spencer is passionate about Hull and its regeneration and recognises the important part Holy Trinity is playing in that, so he was keen for Spencer Group to support this great cause.
"The Spencer business is also all about entrepreneurial spirit undertaking difficult challenges, so this expedition reflects those values. We very much hope our support will encourage other businesses to come on board."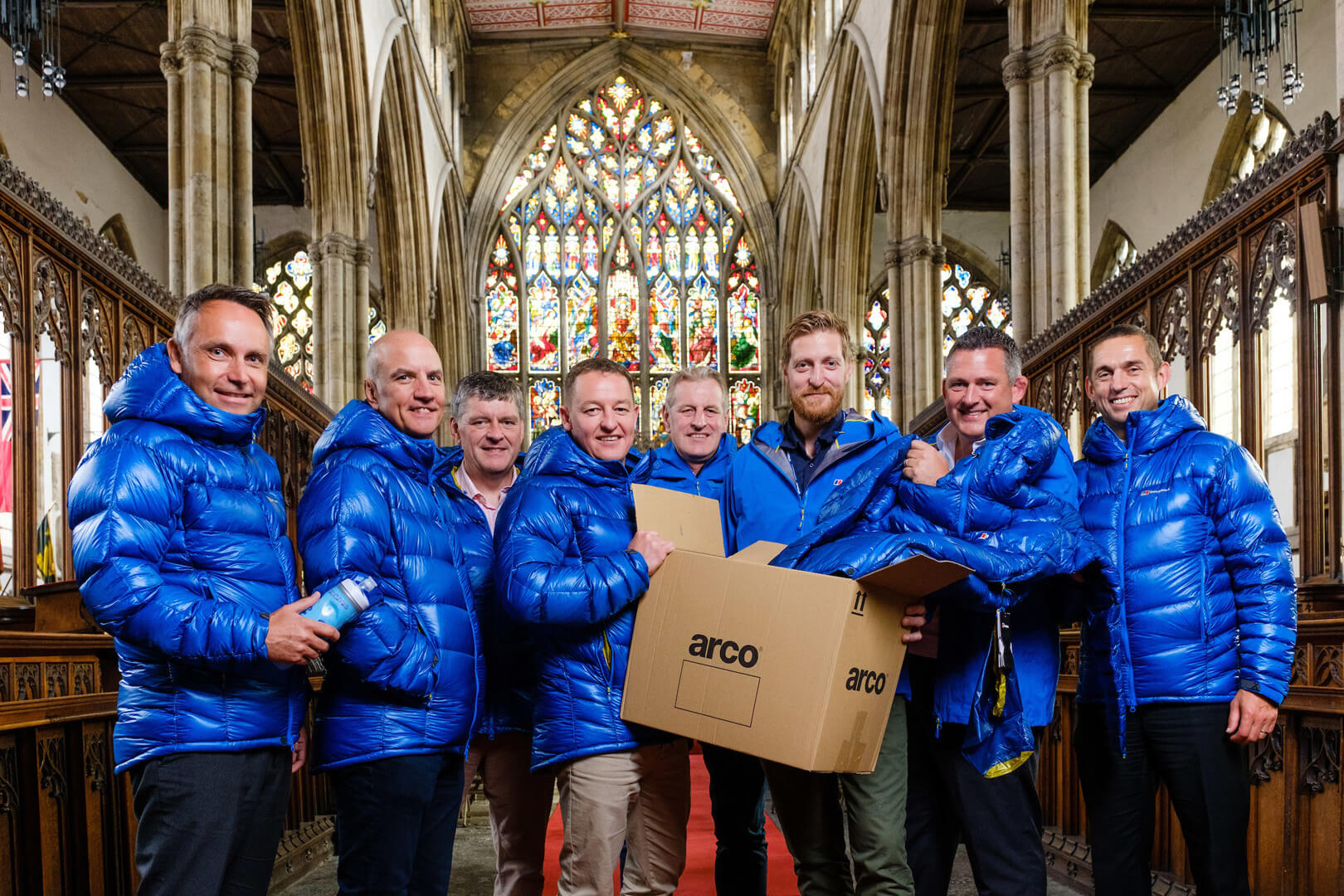 Summit Club sponsor representatives Andy Parkinson (Spencer Group), centre right, and Neil Riseham (Arco) with some of the donated Arco clothing, joined by Kilimanjaro climb team members, from left, Nick Ward (Alan Wood and Partners), Jonathan Leafe (Strawberry), Brian Gilliland (Holy Trinity), Andy Allenby (Allenby Commercial), Nic Marshall (ResQ Outsource Solutions) and Dave Garness (Garness Jones).
The team will begin the trek at the foot of Kilimanjaro in temperatures of 30C or more and will tackle a wide variety of climatic conditions, with temperatures at and close to the summit plunging to below -20C. The team will climb for eight days, followed by descent in a single day.
Arco's support includes kitting out the Holy Trinity team with a complete set of gear suitable for the climb, comprising summit jacket; soft shell jacket; waterproof trousers and jacket; and base layer with built-in hoodie and snood.
Neil Riseham, Arco's Divisional Director for Estates and Facilities, who is one of the climbing team, said: "One of our expert buyers sourced the specialist clothing required for an expedition of this nature. We pride ourselves on providing the best available kit to our customers and that principle has extended to supplying the Kilimanjaro team.
"Holy Trinity's first and foremost priority is to keep the team safe and we're pleased the clothing we have provided will play a critical part in that. As well as protecting the team from hazards such as frostbite, it will ensure everyone is as comfortable as possible during the extreme conditions we will encounter on Kilimanjaro."
Holy Trinity's Director of Development, Brian Gilliland, who is also joining the expedition, stressed there was still time for companies to come on board before or during the challenge.
He added: "Spencer Group and Arco are two of Hull's very best and most respected companies. They are backing us because they care about Hull and recognise how important Holy Trinity's development project is to the city.
"Both companies know all about challenges and overcoming them, so their support reflects their business ethos.
"We know many local business people look up to Spencer Group and Arco, so we hope they will be inspired to also support us. Not every businesses will be able to join the Summit Club, but there other levels of corporate sponsorship and many ways in which companies can support us."
Mr Parkinson climbed Kilimanjaro with a group of friends in 2009, raising funds for Action Duchenne, a charity dedicated to researching a cure and treatment for a form of muscular dystrophy, and has been able to offer the benefit of his experience and advice to the Holy Trinity team.
He said: "The big challenges are the risk of altitude sickness and maintaining the mental strength to keep going.
"The hardest part is the push to the summit on the final day. That involves starting at midnight and climbing continuously for many hours. Even if they avoid altitude sickness, the team will find they are constantly short of breath and need to stop every 10 seconds, because the air is so thin.
"But the sense of achievement in reaching the summit is worth it all and the view is jaw-dropping – you see glaciers bigger than tower blocks."
All the climbers are paying the costs of their participation in the expedition in full to ensure 100 per cent of sponsorship and donations goes to the Holy Trinity development project.
As well as individual donors being encouraged to support team members, Holy Trinity is urging local businesses to back the Kilimanjaro challenge by donating £500 to join the Team Kili "Base Camp", giving £1,000 as a member of the "Climbers Club" or joining Spencer Group and Arco by pledging at least £5,000 to become a "Summit Cub" sponsor.
The Kilimanjaro challenge is part of a wide-ranging fund-raising campaign to enable Holy Trinity to replace outdated and inadequate facilities, become accessible to the whole community and host a wider range of cultural and social events. The development project will also create new income streams to secure a long-term sustainable future for the church as a spectacular, vibrant and welcoming place of worship and community use.
To find out more about the Holy Trinity Kilimanjaro challenge and support the fund-raising drive go to www.htdoeskili.com
Supporters can also contribute at https://campaign.justgiving.com/charity/htdevelotpment/htdoeskili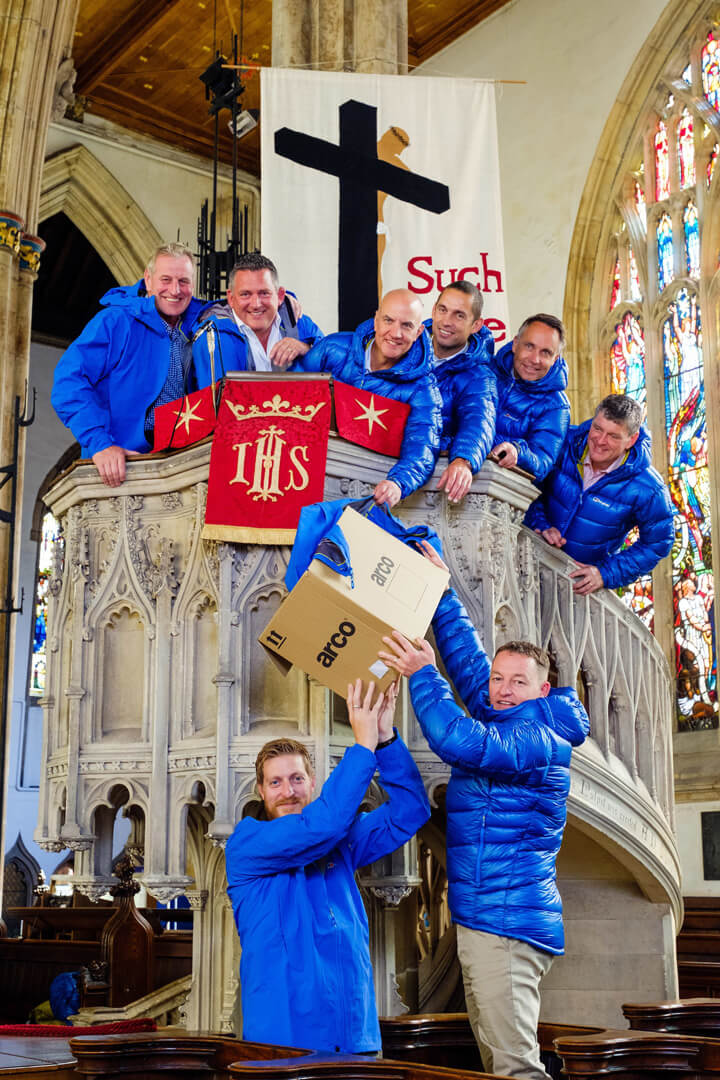 Andy Parkinson (Spencer Group), bottom left, and Neil Riseham (Arco) pass the donated clothing to Kilimanjaro team members, from left, Andy Allenby (Allenby Commercial), Nic Marshall (ResQ Outsource Solutions), Jonathan Leafe (Strawberry), Dave Garness (Garness Jones), Nick Ward (Alan Wood and Partners) and Brian Gilliland (Holy Trinity) in the pulpit at historic Holy Trinity Church.