Collaboration
At Spencer Group, collaboration is the base on which all our work is built. For us, collaboration isn't a tick box or a stage in a schedule, it's how we work at every level of our business – internally, with clients, with the supply chain and with external stakeholders. Transparency is key to our processes, so that everybody has the information they need, and our clients can be sure we're always doing our best to deliver the most cost-effective and buildable solutions.
We have industry-leading experience in a wide range of engineering disciplines, but where we really deliver value to our clients is in the way we collaborate, working together to make the everyday into the extraordinary. At Spencer we love a challenge, and we pride ourselves on our ability to take on the kinds of complex projects that others can't manage. Whatever problem needs to be solved, we'll bring engineers from disciplines as diverse as rail, marine, mechanical and materials together with our in-house designers and planners; to ensure that they all work in concert to deliver the best possible solution.
Our excellent client relationships are key to our success in engineering, and we aim to deliver above expectation at every stage of our work. Above all we believe in delivering to our clients' specifications through clever engineering solutions, and we maintain a continuous dialogue throughout the project to ensure that we're always working to optimise what we're delivering. Every project is unique, so we constantly work to establish objectives, agree timescales, and refine our designs to meet our clients' requirements.
Whether it's through value engineering, a clever logistical strategy or a simple but effective design change, we're always working to optimise our design to ensure that our projects are as efficient and buildable as possible. We continually work with our clients, the supply chain and our design teams to ensure they have input throughout the life of a scheme, in order to make changes that can save time and money. In this way, challenges from restricted possession to space and height are solved quickly, or avoided altogether.
Our ability to marry world-class engineering with our expert planning teams gives us the full complement of skills necessary to deliver every aspect of even the most complex projects. We have extensive experience working with organisations including Network Rail, Transport for London, Associated British Ports, the National Grid and local authorities across the UK, that enables us to manage logistical challenges; including planning, funding, access and legislation.
By collaborating with these external stakeholders, with which we maintain excellent working relationships, we are able to deliver the smoothest possible process throughout a project – and work with them to solve even the trickiest problems. By choosing Spencer, our clients are choosing a relationship built on our collaborative, open and honest partnering philosophy and our dedication to innovation and high-quality delivery.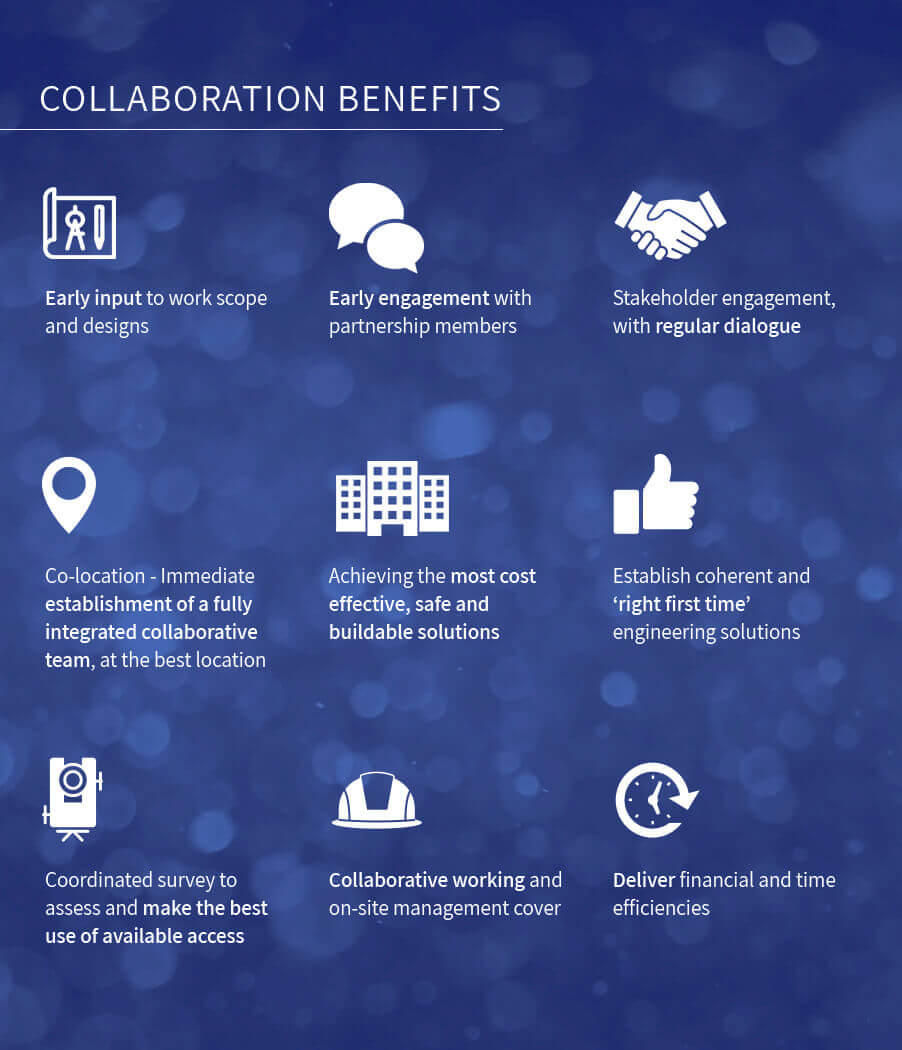 Client Charter
For Spencer Group, our relationship with our clients is the foundation stone on which any project is built. Every element of our process, from the first designs to the last coat of paint, is engineered to make the experience of working with us as transparent and constructive as possible.
We may work on some of the UK's largest engineering projects, but we're a family firm at heart, and we aim to give all of our clients a personal and engaging service. With a key contact from start to finish, our clients always know who to talk to. They also have full access to our bespoke document handling system, which allows them access to all the same information we have, any time of day or night.
We believe technology is best used to augment our engineers' skills, not replace them. That's why we deploy the latest advances in the industry to give our engineers the tools to perform at their best, but not at the expense of face-to-face contact. They are there every step of the way: From our design team using the latest 3D modelling tools to help visual the full project, to the drone footage updates from site, to the XER Toolkit that lets clients track progress and costs at any point. Thanks to our principle of self-delivery these same professionals continue to input at all stages of the project, continually refining the design and processes to ensure it is always optimised for our clients' objectives.
At Spencer we specialise in the impossible, but every project is a journey, and we don't travel alone. Our clients are with us every step of the way, and together we can achieve the extraordinary.
Meet Diane Rowe – our Customer Relationship Manager