After months of wondering how a huge quantity of soil was going to make its way over the tracks and onto the platform at West Midlands Railway's Tyseley station, volunteers were supported by a construction company working nearby, who successfully filled the station's massive concrete planter.
The planter had been in need of several hundredweight of soil and the station volunteers were desperate to get the planter filled with foliage. The only problem they were facing was figuring out how to get the large quantity of soil required onto the platform.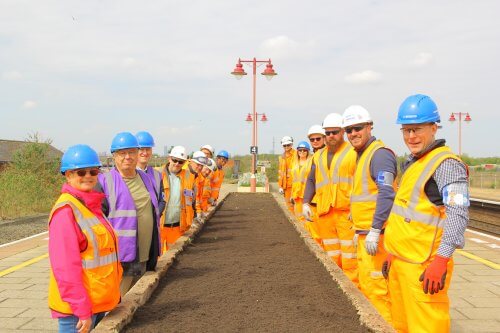 Whilst contracted for engineering work at Tyseley Railway Depot, associates from Spencer Group (based in both Tyseley and Worcester) heard of the struggle that the volunteers had been having and kindly offered to help.
Jon Bailey, operations director at Spencer Group was speaking with Fay Easton, head of stakeholder and community for West Midlands Railway, when she mentioned that some volunteers who worked at the station were facing a real problem trying to figure out how to move a huge amount of soil over the railway tracks in order to fill a large planter.
After a lot of planning and industry approvals, the go-ahead was given for the soil to be moved, and project manager at Spencer Group, John Holmes, got to work. The sheer volume of soil to move meant that this project would have been extremely expensive to commission, but Spencer Group generously covered the costs so that the volunteers could begin the task of seasonal planting.
Fay Easton, at West Midlands Railway said:
"The generosity shown by Spencer Group has been very much valued and appreciated by the team, the local residents and of course the passengers. The transformation allows the Tyseley station volunteers to continue their sterling efforts to enhance the station and complete their landscaping plans."
Diane Rowe, customer relationship manager, at Spencer Group, says:
"We pride ourselves in going the extra mile for our clients. We are aware of how noisy and disruptive engineering work can be, so it's always nice when we can do something good before we finish a project."
The impressive planter at Tyseley station will be a beautiful display when it flowers. The volunteers care for the station all year-round, so do look out of the train window when you're next passing through the station and see the planter in full bloom.
For more information about West Midlands Railway, please visit here.