Engineering business Spencer Group has taken on the largest injection of young talent in its 30-year history.
The Hull-based company has hired 14 apprentices – all of them from the city's employer-led school, Ron Dearing University Technical College (UTC).
The new recruits are all aged 18 and are from the first group of students to leave Ron Dearing UTC since the school was founded two years ago to create a new pipeline of talented young people with advanced digital and engineering skills for local businesses and to support the growth of the region's economy.
Spencer Group is one of Ron Dearing UTC's Founding Partners and Executive Chairman and founder Charlie Spencer OBE is the school's Chair of Governors.
Nine of the recruits have begun Engineering Apprenticeships, while two are Apprentice Plant Fitters; one is an IT Support Apprentice; one a Web Development Apprentice; and another a Commercial Apprentice.
Based at Humber Quays on Hull Marina, Spencer Group is one of the UK's leading privately-owned, multi-disciplinary engineering businesses.
Spencer Group has a directly-employed workforce of 250, with teams working on infrastructure projects across the UK, and the recruitment of so many new trainees is a demonstration of the company's long-standing commitment to develop its own talent.
Mr Spencer said it was also a huge vote of confidence in Ron Dearing UTC and the school's employer-driven education model under which the curriculum is developed with the business partners and students work on real-life challenges set by employer sponsors.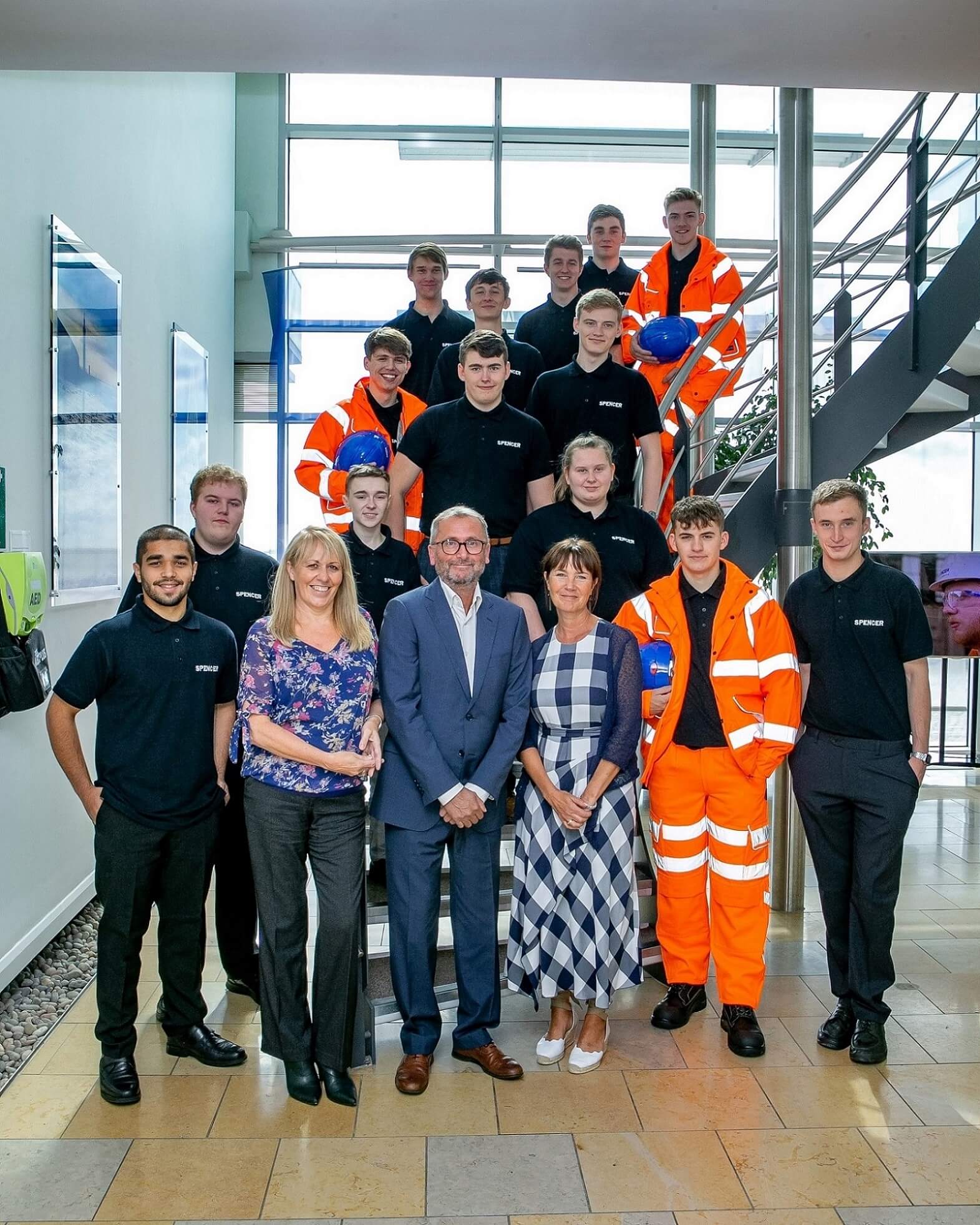 Mr Spencer said:
"We're passionate in our support for Ron Dearing UTC and how the school brings the worlds of education and business together to develop work-ready young people with the skills, qualifications and confidence to succeed in the workplace.

"We've worked very closely with the school over the past two years and got to know all the students, including those who have now joined us, really well. We've been able to see them grow and develop.

"That means we're very confident all our new apprentices have the talent to thrive with us and also that they're a really good fit with the culture of the business. We're excited about the contribution they will make."
The majority of the apprentices have previously benefited from placements at Spencer Group under a highly-structured work experience programme for Ron Dearing UTC students.
Spencer Group Human Resources Director Yvonne Moir, who is also a Ron Dearing UTC Governor, said:
"It wasn't originally our intention to take on so many but, once we started the apprenticeship recruitment process, it was clear there were so many excellent candidates to choose from.

"We've accessed funding via the Apprenticeship Levy and the Construction Industry Training Board, which has enabled us to bring more talented young people into the business than we would otherwise have been able to.

"That has helped us to make a major investment in our future talent and create great opportunities for these apprentices to begin their careers with us."
The recruits include Commercial Apprentice George Mellonby, who has begun a degree apprenticeship, and is studying towards a BSc Honours in quantity surveying.
He said:
"The degree apprenticeship is perfect for me. Student loans are a major concern when considering taking a degree and a big reason why some people choose not to go to university.

"Doing it this way means I get valuable working experience as well as an academic qualification, without any student debt.

"Joining the business with friends from school has also made it a lot less daunting than it would have been if I was coming on my own."
Apprentice Engineer Jack Waslin said he was supported while at Ron Dearing UTC by his business mentor, Anthony Smith, a Senior Technician at Spencer Group.
Jack said:
"He told me about Spencer Group and I also looked them up and really liked the work they have done and their future prospects.

"Being at Ron Dearing UTC has definitely helped us all and prepared us for a work environment. There's also a strong connection with Spencer Group. Without that it would have been much harder to get into a company like this.

"I'm starting with three months in the Design department, followed by three months in the Safety, Health, Environment and Quality team and then on to other departments.

"I really like that, because I want to stay open to what is best for me when I understand what all the roles involve."
Pictures: Karl Andre Photography.