The materials handling market in the UK is long-established, with the basic requirements for raw material extraction and transportation having existed for hundreds of years for the manufacturing industries and the energy market.
In recent years, the energy industry has entered previously uncharted territory with the emergence of the biomass market creating a huge demand for pelletised biomass to be used as an alternative to fossil fuels, specifically coal.
The industry has seen a number of huge infrastructure projects emerge to modify and enhance ports and power stations to handle this new source of fuel, many which have also been industry-firsts in their construction. Even now, the industry is still learning from the unique properties and characteristics of biomass pellets and consistently developing new technology to ensure safe, efficient handling.
The materials handling industry has long been the stronghold of technology-driven manufacturing organisations whose equipment often represents a majority-proportion of the value of a project. With many companies operating in specialist areas and offering a complementary installation and construction offering, industry-ready in-house delivery – based on a client-specified or known solution – has often been the normal model of delivery in the market.
The biomass sector, however, introduced a new challenge – one that is fundamentally underpinned by scale. The sheer quantities involved in the shipment and storage of pellets instantly rule out any possibility of storing the material in shop-built vessels or silos. It's a challenge that necessitates site-constructed civil engineering structures, many of a scale never seen before. The associated handling systems often have to be the largest options available in the market and the capability to undertake a complex, multi-disciplinary construction project valued at tens of millions cannot be met by those manufacturers simply used to erecting their own equipment on a pre-determined concrete slab or steel module.
The biomass market created a new layer in the supply chain, with the need for medium-large scale construction and project management companies with a balance sheet strength to take on the role of principal contractor. These organisations are required to gear up quickly and understand the complexities of such projects, selecting, managing and integrating a complex list of specialist sub-contractors, many of which have limited experience of collaboration on a scale such as this.
It is this opportunity which UK-based Spencer Group (Spencer) welcomed with open arms. Spencer has over 25 years' multi-disciplinary experience in the construction and civil engineering sector, but the immeasurable value it adds comes from its steadfast foothold in the rail and port sectors, two essential links in the biomass logistics supply chain.
Biomass pellets arriving in the UK by ship are typically unloaded, transported to temporary storage facilities, loaded onto trains and transported to power stations, where they are unloaded, stored and finally distrusted into the energy production process. Spencer's ability to design, develop, build and integrate projects, combined with a vast portfolio of port logistics and rail projects under its belt, made the group a worthy contender to create a valuable offering to this new, rapidly emerging market.
Spencer's credentials for being a vital part of the supply chain extend beyond its expertise in construction, engineering and transportation logistics. Recognising a need for large-scale materials handling projects in traditional UK industries such as aggregate, coal and recycling, the company's founder and Executive Chairman Charlie Spencer MBE recruited a team of industry experts to join his growing business. Bolted to firm credentials in civil, mechanical, electrical and structural engineering and contracting, Spencer was creating the perfect team in anticipation of the perfect storm.
Drax Unloading and Storage Facility: March 2009 – June 2010
Spencer's role in the UK biomass market started in earnest in March 2009 with the unloading and storage facility for Drax Power Ltd. Associated Ports. This was a technically complex project to design, supply, install and commission all civil, structural, electrical and mechanical works associated with the rail unloading project, supporting the co-firing project.
The works completed by Spencer emphasised the group's multi-disciplinary capability in handling high-value schemes with a rapid and complex delivery programme. The design and build of this facility required a combination of Spencer's in-house design, process design, civil and construction, M&E, rail and project management expertise.
Close collaboration with the Drax team allowed challenges to be overcome through meticulous project and design management. Spencer also guaranteed that no critical systems came off-line at any point, thus maintaining existing access routed and rights of way during construction.
The site presented a vast network of overhead and buried utilities and services, such as HV and LV supplies, fibre optic cables, telecoms and potable water. Spencer developed a site-specific system of work within the relevant method statement detailing control measures to protect the various services.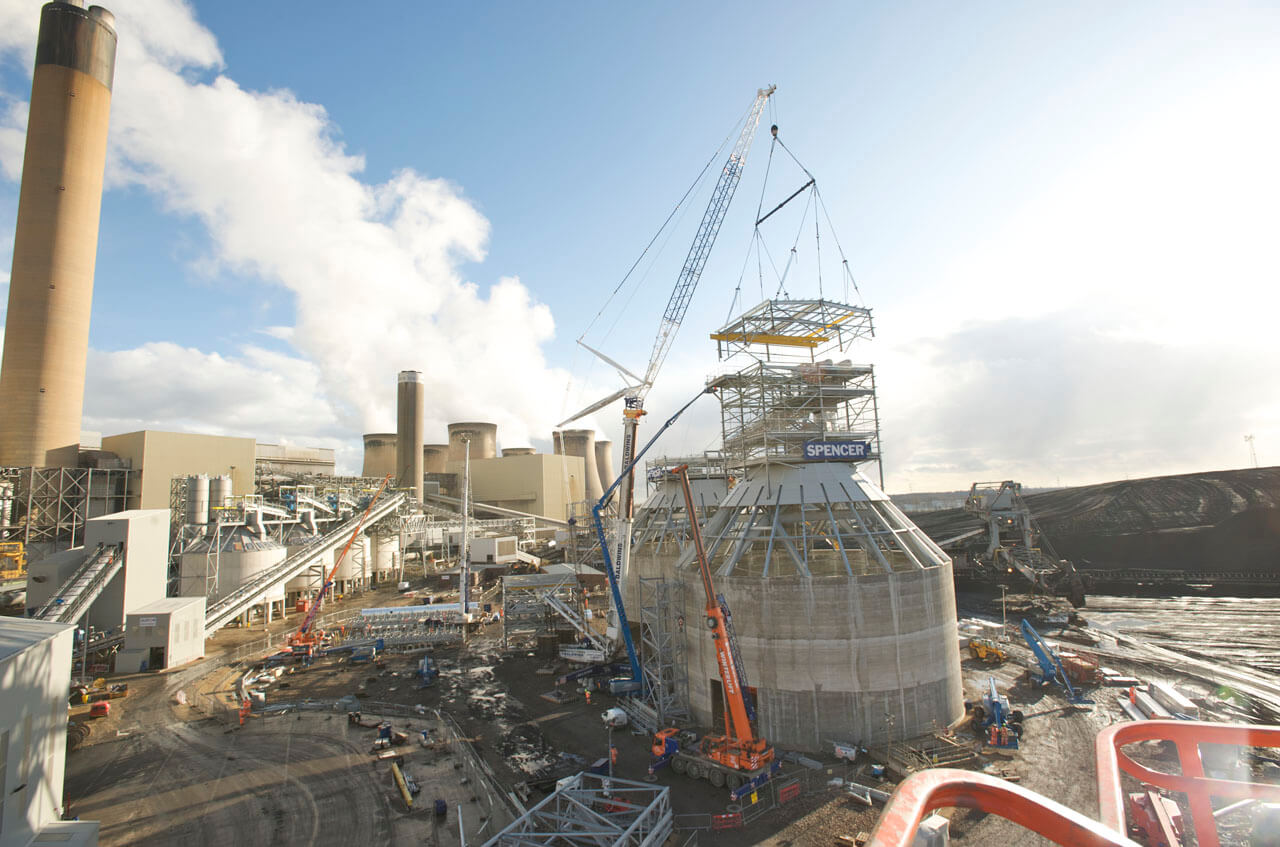 Port of Tyne Biomass Storage and Rail Loading: October 2009 to November 2010
Spencer set a world first with this project. Up until then, no standards existed for design of bulk wood and pellet stores as none had previously been built on this scale. The facility is largely bespoke-designed and built by Spencer's in-house team.
The scope of works comprised:
The construction of a steel storage building: 150m x 75m x 20m high, to accommodate up to 75,000 tonnes of biomass wood pellets.
 A loading annex for loading bio-fuels onto conveyor systems via five loading hoppers.
A rail loading system capable of accurately loading biomass trains while they travel through the facility.
200 metres of transit conveyor structures and trestle supports up to 40m in height.
A 40-metre-high rail loading silo formed in slip form concrete, capable of storing 2,000 cubic metres of biomass pellets.
The installation of 1MVA 11kV/400V outdoor transformer, 400V power distribution system, instrumentation and control systems.
This and similar projects have allowed Spencer to develop an industry-leading understanding of biomass process engineering and the critical issues associated with handling fuel of this type.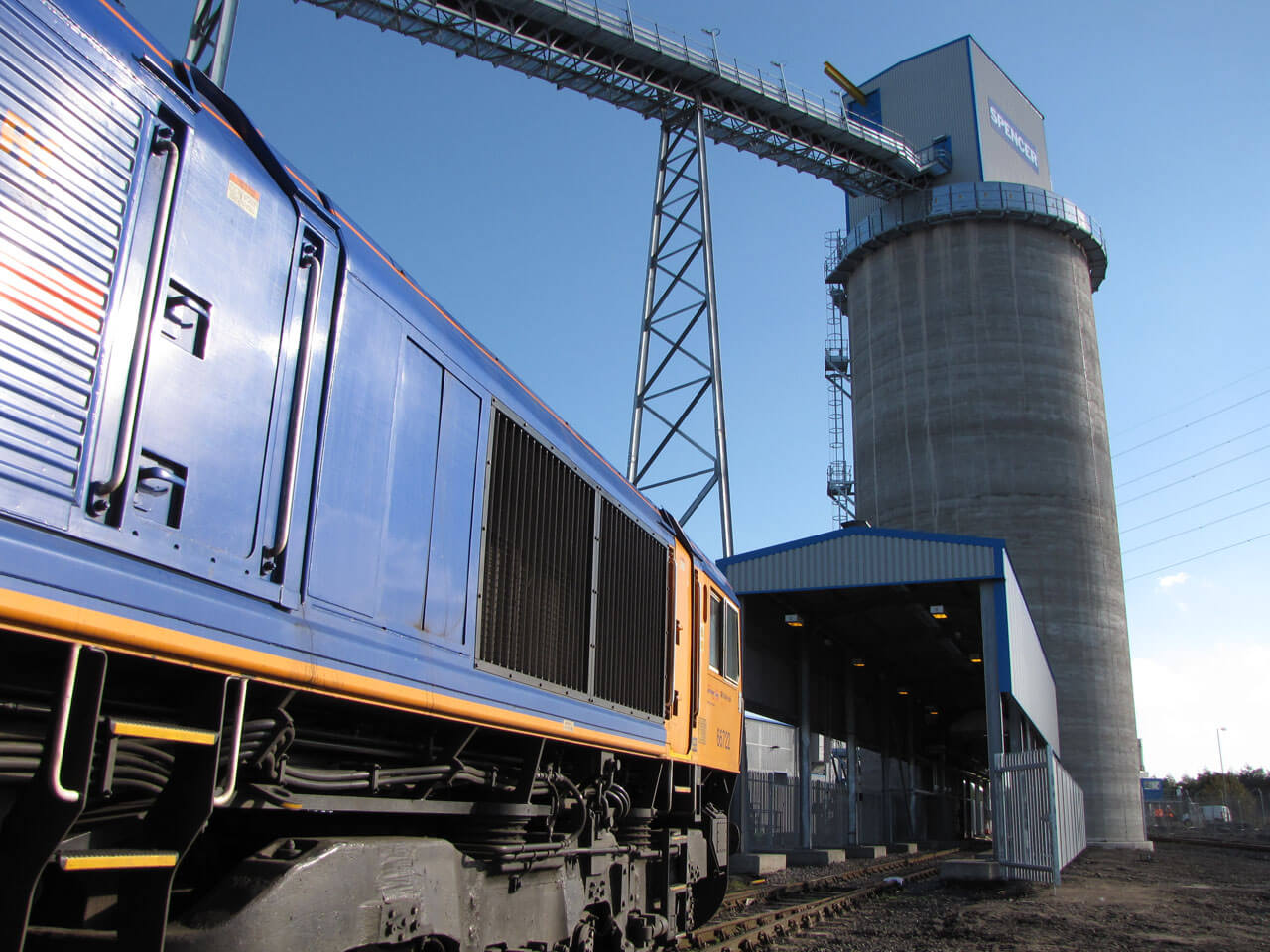 Drax – Project Phoenix: February – July 2011
The Project Phoenix involved the design and build of two reclaim link conveyors between the new biomass handling facility and the existing coal handling facility at Drax Power Station, providing additional co-firing capabilities.
Spencer's approach to collaborative working was key in securing this contract and was continued through using its internal online document handling system, SOS, affording Drax direct access to all project correspondence, records and cost ledger management.
Key to the success of the project was the management of complex operational and system interfaces, while maintaining existing system availability. Utilising initial and ongoing project workshops and appropriate control measures, Spencer was able to ensure impact on existing operations was minimised. Construction methods involved pre-fabrication, workshop assembly of mechanical items and, where possible, ground level assembly, resulting in improved safety and a much more efficient working environment.
Spencer was able to reduce response times and minimise reliance on an extended supply chain, when compared to a construction-only contractor, via the benefits of collaboration and co-location. The group's in-house expertise allowed the client to alter design ideas throughout the project and challenges were successfully overcome through meticulous management. Spencer's collaborative approach was further enhanced through the co-location of its staff and Drax employees at the Selby site.
Port of Hull: February – December 2013
This contract involved providing biomass fuel import, road unloading and train loading facilities. Spencer's scope in the project included designing all elements of the works, creating: a road reception facility; transit conveyor structures; a rail loading silo; a rail loading system capable of accurately loading biomass trains as they travel through the facility; site road and infrastructure works; and the installation of a 1MVA 22kV/400V transformer, 400V power distribution system, instrumentation and control systems.
This project required extensive experience of working in operational port environments, which Spencer had acquired since 1989. Therefore, the group fully understood the need for careful project management to ensure that facilities remained operational during all works and disruption to all stakeholders was minimised. Spencer was able to use its experience and learning from previous projects with Drax Power Plant Ltd. to deliver a successful solution.