Spencer Group is celebrating the remarkable success of the company's most extensive apprenticeship programme.
Eleven apprentices who joined the Hull-based specialist engineering business two years ago have now completed their programmes and become fully-fledged members of the workforce.
The recruits, all from Hull and East Yorkshire, joined on the same day in July 2014 and have played key roles in the successful delivery of several projects and are taking on ever greater responsibility, including mentoring more recent recruits and work placements.
Spencer Training Manager Aaron McIver said: "This has been the biggest investment we had ever made in growing our own talent.
"From day one all the apprentices worked on real-life projects in our key market sectors of rail, energy and engineering. These have been challenging projects, working to strict deadlines and meeting our demanding requirements and those of our clients. That has contributed to their progress and maturity.
"All are now in business-critical roles and have become integral to the effective delivery of our projects. The value they have delivered has definitely merited the decision to employ them. We've given them the opportunity, the support and the quality training and they have delivered on their side of the bargain.
"This programme has really demonstrated the fantastic talent available locally."
Spencer is one of the UK's leading privately-owned multi-disciplinary engineering businesses with a reputation for the successful delivery of major infrastructure projects. Although the company works on projects across the UK and, on occasions, in Europe, it is keen to develop talent in and around Hull where the company was founded and is based.
The apprentice programmes have combined in-house training and hands-on experience, supported by technical and academic learning provided by Hull College. The successful team members are:
Construction and engineering: Jamie Hartley, 28, from Hull; Phil Kirkwood, 31, of Hedon; Keiron Musgrave, 19, of Barton upon Humber; Jonah O'Leary, 20, of Bransholme; Daniel Sach, 24, of Driffield; and Ryan Walters, 20, of Kirkella.
Software development: Josh Barker, 20, of Hessle; Jack Hardcastle, 22, of Hessle; Ryan Palmer, 20, of Hull; and Lee Westoby, 25, from Brough.
Computer-Aided Design: Courtney Harris, 19, of Elloughton.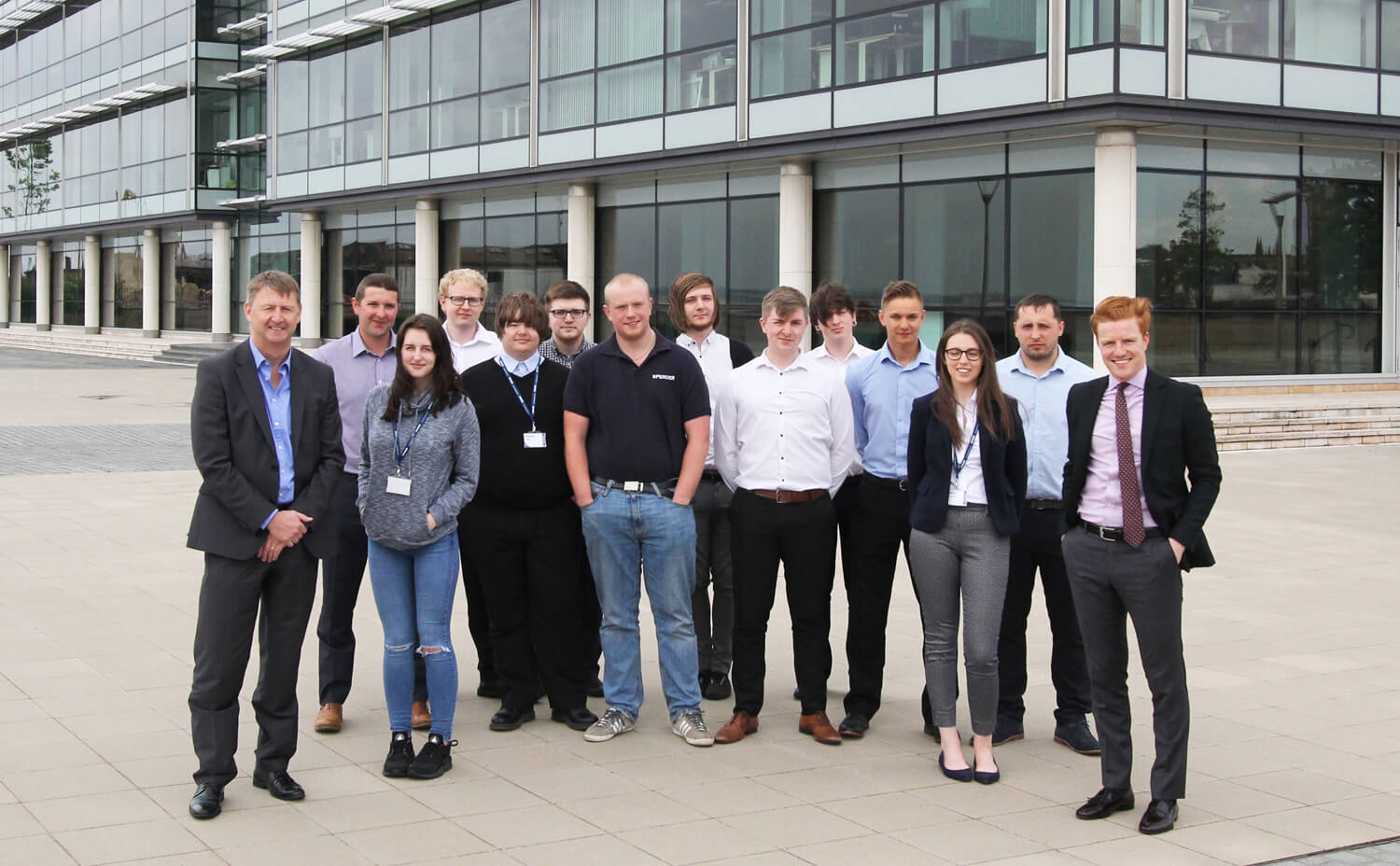 Eleven team members have graduated from Spencer Group's most extensive apprenticeship programme. Pictured, from left, are Gary Thornton, Managing Director; Phil Kirkwood, Trainee Engineer; Mel Bunfield, Business Administration Apprentice; Lee Westoby, Junior Software Developer; Jonah O'Leary, Trainee Engineer; Ryan Palmer, Junior Software Developer; Ryan Walters, Trainee Engineer; Jack Hardcastle, Junior Software Developer; Keiron Musgrave, Trainee Quantity Surveyor; Josh Barker, Junior Software Developer; Dan Sach, Trainee Engineer; Courtney Harris, CAD Technician; Jamie Hartley, Trainee Construction Manager; and Aaron McIver, Training Manager.
The construction/engineering and CAD apprentices have each completed a Level 3 BTEC Diploma while the software developers have concluded a Level 4 Higher Apprenticeship. All will now progress to a HNC Level 4 programme, combining further work-based training and development and part-time study.
The former construction/engineering apprentices are now firmly on the Spencer career ladder, pursuing paths towards various site and project management, engineering, design and quantity surveyor positions.
The software developers are now time-served IT developers working on the company's Spencer Online System (SOS) in-house project and document management system and related activities, while Courtney is working towards becoming a fully-qualified Engineer, combining design and on-site delivery skills.
Mr McIver said the company was delighted by the achievements of all the recruits, highlighting Courtney's success: "We really struggle to attract candidates into design roles as there seems to be a real lack of people locally with CAD skills, so Courtney's development is a great result for us and an excellent example of the benefits of growing our own talent."
He said the software apprentices had played key roles in the successful development of the company's e-learning platform Spencer Online Learning Opportunities (SOLO). This has enabled the digital delivery of almost 3,000 training courses, at a saving to the company of £300,000 compared to traditional office-based training which would take staff away from projects and involve travelling time and costs.
"Without the apprentices, SOLO simply wouldn't have been developed, as our experienced developers were fully committed to critical projects," Mr McIver added.
Spencer Managing Director Gary Thornton said: "The success of all these young people is a testament to their commitment and talent. Congratulations to them all.
"All of them are delivering great results working on some of our largest schemes either on site or in areas such as design and support roles.  They are really justifying their selection and repaying our investment in their development.
Spencer is now building on its apprenticeships success, having employed Business Administration Apprentice Mel Bunfield, 17, from Hull, six months ago. Her duties include collating site induction records and liaising with commercial teams to support contract administration.
The most recent apprentice recruits have been Construction Apprentice Chris Smith, 24, and Business Administration Apprentice Courtney Smith, 17, who are working on the £200m Energy Works power plant being built at Cleveland Street in east Hull. Spencer is part of the delivery team for the project, one of Hull's largest developments. Chris and Courtney both live close to the Energy Works site and Chris is now being mentored by Phil Kirkwood and Jamie Hartley, who are part of the project team.
Spencer is also widening the scope of its apprenticeship programmes and working with East Riding College as well as Hull College. Spencer has teamed up with East Riding College to enable 20 people to learn essential skills required by the company in a 10-week pre-apprenticeship programme that will lead to up to five candidates being selected for a two-year apprenticeship from next month.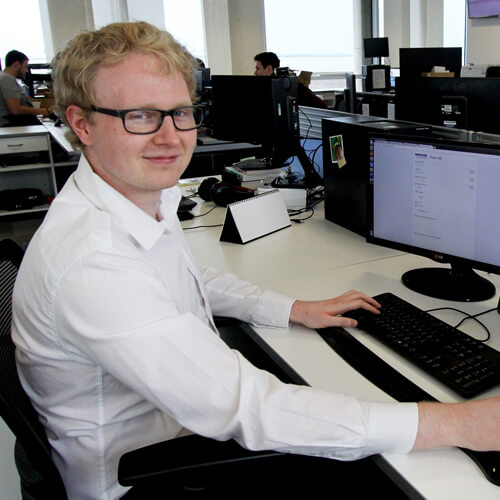 'It has been a big learning curve … I feel I've learned so much'
Junior Software Developer Lee Westoby, 25 from Brough, East Yorkshire, has completed a Software Development Higher Level Apprenticeship, having joined Spencer Group following a full-time NVQ Level 3 Next Generation Software Developer Course at Hull College.
He said: "I've gained a huge amount of experience and knowledge that I couldn't have got by staying in education. Doing an apprenticeship with a company like Spencer means you're really connected to what's happening in industry.
"Coming into a big company like this can be daunting and it has been a big learning curve. You are sometimes taken out of your comfort zone, but that pushes you on and has really helped to build my confidence.
"I feel I've learned so much that I have been able to apply within the business and will be able to use in my future career."
Among other projects, Lee and fellow apprentice Jack Hardcastle have developed "Close Call", a web-based app to record digitally potential hazards identified on Spencer works sites.
"The project has gone from a page of specifications set out by our manager to a fully-working app," said Lee. "All the specifications have been met and we've added extra features. The app is now in its final testing phase."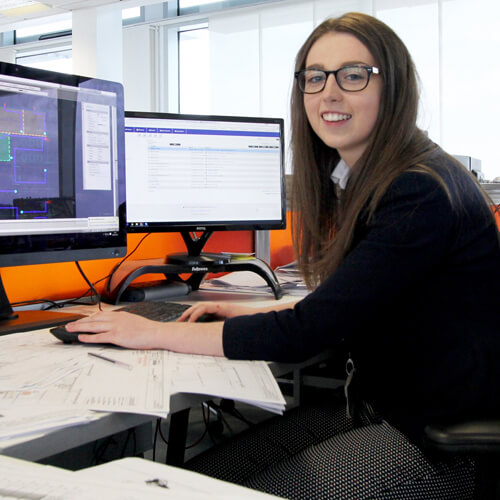 'I'm so pleased with where I am and don't want it to stop'
Courtney Harris, 19, from Elloughton, East Yorkshire, has completed her apprenticeship working within Spencer's Design Team and is now a Computer-Aided Design (CAD) Technician, working towards becoming a fully-qualified Engineer.
She said: "It's been an amazing opportunity and experience and has given me so much confidence, professionally and personally.
"From day one I have been working on live projects and have been given so much responsibility and trust. I think I've responded very well to that and don't feel I have struggled at any time.
"Of course you get stuck sometimes, but everybody is so friendly and supportive. You're never on your own – the support from Spencer has been great. I'm so pleased with where I am and I don't want it to stop."
Courtney is currently working on designing the interior and external cladding and doors for the Energy Academy, the operational and research hub of the £200m Energy Works power plant currently under construction in Hull. Spencer is part of the delivery team for the project.
She added: "I've learned from so many people here and now I am mentoring young people who are coming into the company on work placement over the summer. It's a big step up for me and I know I'll enjoy passing on what I have learned."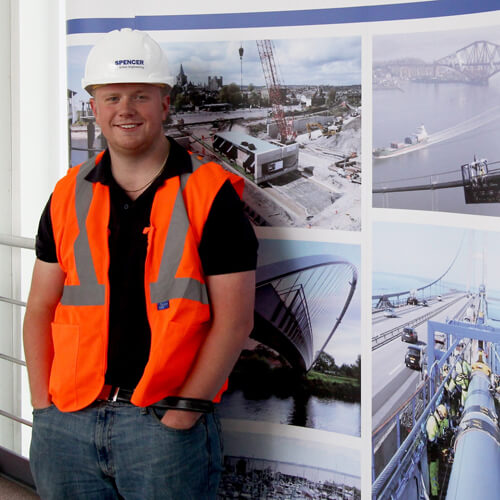 'The biggest thing I've learned is not to be afraid to mess up'
Ryan Walters' apprenticeship has included the past 18 months working as part of the engineering team on two Spencer rail projects in Leeds and another in Edinburgh.
As part of the site-based engineering team, Ryan has contributed to the preparation, planning and delivery of each project, ensuring what is planned is delivered from an engineering perspective, to Spencer's high quality standards.
Now the 20-year-old from Kirkella, East Yorkshire, is a Trainee Engineer and has taken on the Project Engineer role on another Spencer rail scheme in Newcastle upon Tyne.
Ryan said: "I've really grown in confidence. I was quite shy and quiet when I first went on site – and that doesn't work on a building site. I had to come out of my shell.
"The biggest thing I've learned is not to be afraid to mess up. There's always a way to sort it out. The only people who don't make mistakes are the ones who don't do anything.
"The support from the company has been great – from the people you're working with on site to people back at the office who you only deal with via e-mail.
"It's not been what I expected at all. I thought an apprenticeship would mean making the tea and fetching and carrying for the first year or so, but I was thrown in the deep end. I was told 'don't stand at the back and watch – go and build it!' I prefer it that way and it's worked for me.
"Every day is a school day on site because you learn something new every day."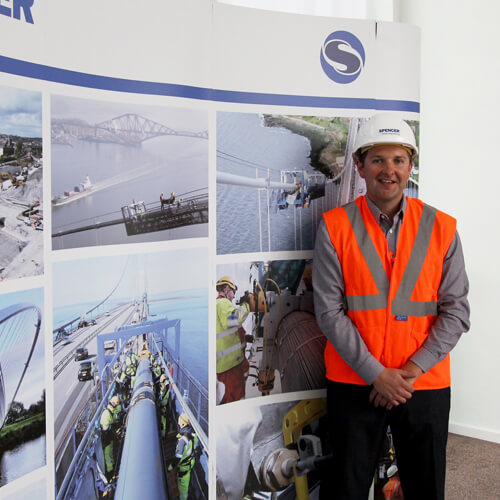 'With Spencer there are no closed doors'
Phil Kirkwood was the oldest of the recruits, having taken an apprenticeship with Spencer to establish a professional career after working in the construction industry for a number of years in labouring and bricklaying jobs.
Following rail projects in Leeds, Phil, 31, from Hedon, East Yorkshire, is now a Trainee Engineer as part of a six-strong engineering team on the £200m Energy Works power plant in Hull, for which Spencer is part of the delivery team. Part of Phil's role is ensuring the team is always working from the very latest version of the works designs, which undergo regular revisions as construction develops.
Phil will also have engineering responsibility for delivery of the Energy Academy part of the project, supported by a Senior Engineer.
He said:  "From the outset it has been fast-paced and intense. You've got to be prepared to put your hand up and show you've got the right attitude, a willingness to learn and want to get the job done correctly, to Spencer's standards.
"The Spencer way is to build your confidence and give you the opportunity to grow within the Spencer family and I think all the apprentices have responded to that.
"There is a very strong principle in the company of having a support network around you – many of the people I have worked with are not just work colleagues, I regard them as friends. They go out of their way to help and are always offering advice. They always have time for you."
Phil is aiming for a long-term career with Spencer: "Every day I'm learning and there's a lot to learn, but it does stick and will benefit me for the long term.
"I'm lucky that I'm with an excellent company in a sector that is thriving and is in a strong position for years to come. I feel that taking the apprenticeship has paid off for me and there are plenty of opportunities ahead. With Spencer there are no closed doors."