Ron Dearing UTC Principal Sarah Pashley has paid tribute to outgoing Chair of Governors Charlie Spencer OBE, describing him as the "driving force" behind the creation of the pioneering employer-led school.
Charlie, Executive Chairman of Founding Partner Spencer Group, has stepped down as Chair after holding the position since the Ofsted Outstanding-rated school's inception.
He has been succeeded as Chair by Richard Martin, Digital Director at Major Partner Arco, who has been a governor for three years.
Charlie was a hugely instrumental figure in the formation of Ron Dearing UTC, which opened its doors to students for the first time in September 2017, and Sarah said everyone at the school owes him a debt of gratitude for his vision, commitment and inspirational leadership.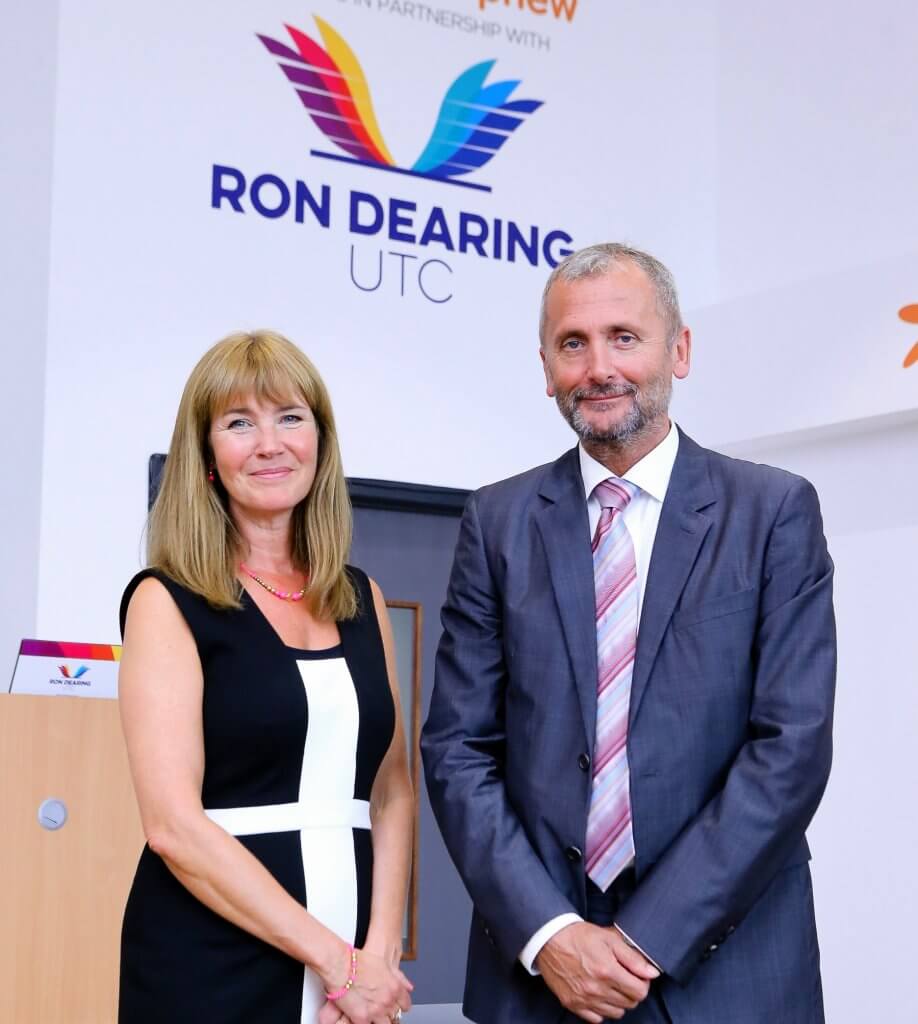 "We are extremely grateful to Charlie Spencer for the amazing job he has done as our Chair of Governors – he has been truly fantastic," she said.

"Charlie was the main driving force in ensuring that Ron Dearing UTC came into existence.

"He worked tirelessly with the Project Steering Group to put together the funding bid to raise the £10m needed to build the school and played a huge part in developing our curriculum, as well as promoting Ron Dearing UTC and helping to recruit staff and students.

"Charlie is an extremely well-respected member of the local business community and has been absolutely instrumental in inspiring so many of the region's leading businesses to partner with us.

"His revolutionary vision for employer-engaged education was the main reason why I applied for the post of Principal and it has been an honour to work closely with him to realise it."
Although Charlie has stepped down as Chair, he will remain a member of the Governing Board and Spencer Group will continue as a Founding Partner.
Charlie said:
"It's been a great honour and a fantastic experience to serve as Chair of Governors, working alongside a great team of people.

"I am very proud of what we have achieved in such a short space of time, the highlight being achieving the Outstanding Ofsted rating.

"I am very pleased that Richard Martin has agreed to be appointed as the new Chair of Governors. Richard brings a wealth of knowledge, enthusiasm and fresh eyes to the post.

"I will continue to be involved with the school as a Governor and Spencer Group will remain a key Founding Partner.

"I look forward to working with the rest of the Governors on our expansion plans and ensuring we maintain the exceptional level of education the school currently offers to all its students."