The founder and Executive Chairman of Spencer Group, Charlie Spencer OBE, has been honoured for his contribution to the business community in his home city.
Charlie was presented with the Lifetime Contribution Award at the 2016 Hull Daily Mail Business Awards. The award recognises a business leader who has made a significant and positive impact over a number of years. In addition, the recipient must be someone whose contribution to the business community and local life generally marks them out as deserving of special recognition.
The award was presented by Gary Young, Executive Vice President of Hull-based communications provider KCOM, who told an audience of 400 business leaders about Charlie's remarkable business story.
Mr Young said Charlie established his specialist engineering business 27 years ago, from his then home in Anlaby, East Yorkshire. From scratch it has grown to a multi award-winning business turning over more than £100m; conquering extraordinary engineering challenges; and enjoying an excellent reputation among clients and the wider community.
Hull-based Spencer Group is currently working on the biggest contract in the history of the business – just one of many projects it has delivered supporting the UK's transition to a low-carbon economy, Mr Young said.
He said Charlie was a prominent advocate and pioneer of the Living Wage and a passionate believer in entrepreneurship, having funded programmes by youth development charity CatZero to inspire young people to set up their own businesses, and being a leading sponsor of Global Entrepreneurship Week in Hull.
He added that Charlie was a prominent member of Hull's For Entrepreneurs Only group and, with others, has given a great deal of his time to advise and mentor budding business owners and fledgling companies.
His company had also made donations of cash and in-kind support totalling at least two hundred thousand pounds to community causes and charities over recent years.
Mr Young said Charlie, who was awarded the Order of the British Empire for services to business and the economy in 2015, had given generously of his time to support the regeneration of Hull and the wider region.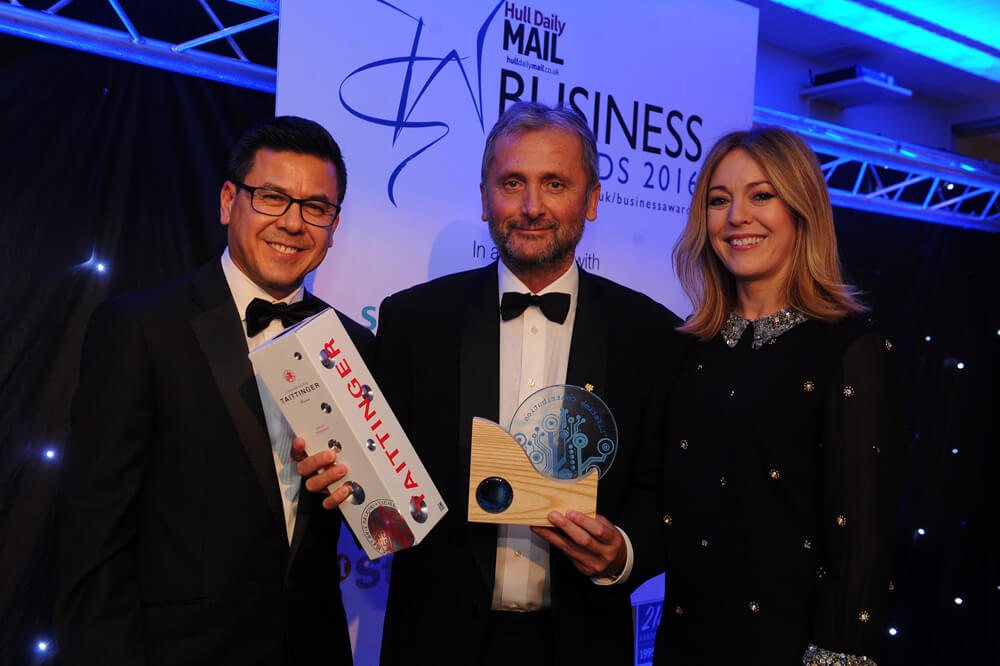 Spencer Group Executive Chairman Charlie Spencer received his Lifetime Contribution honour at the Hull Daily Mail Business Awards from KCOM Executive Vice President Gary Young. They are pictured with event host Helen Fospero.
Charlie is a member of the Hull City Leadership Board, which is driving forward the City Plan to transform Hull's economic fortunes, and Chair of the pioneering Ron Dearing University Technical College, which will play a key role in creating a workforce with the skills to maximise the region's exciting growth opportunities.
Receiving the award, Charlie thanked his wife Noreen who started the business with him in 1989: "She has been with me through thick and thin ever since and has been an absolute rock".
He also paid tribute to his late parents "who brought six children up believing they could do anything they wanted to do" and the inspiration of his older brother John, who went into business before him and had built a highly successful signs company.
Charlie said the success of Spencer Group was due to the great people in the business: "I'm really proud of everyone who works at Spencer Group. It's a real privilege to work with them and it's fun to go to work every day."
He added he was proudest of being a "Hull lad" and being part of the local business community which did so much to contribute to the development of the city and region.
"When I look around the business community I see a number of people in business giving their time and money just to make Hull the place it is," he said. "That really is amazing.
"Hull has got some great institutions, including the Hull Daily Mail, which plays a really important role in knitting that community together through events like this. They do a fantastic job."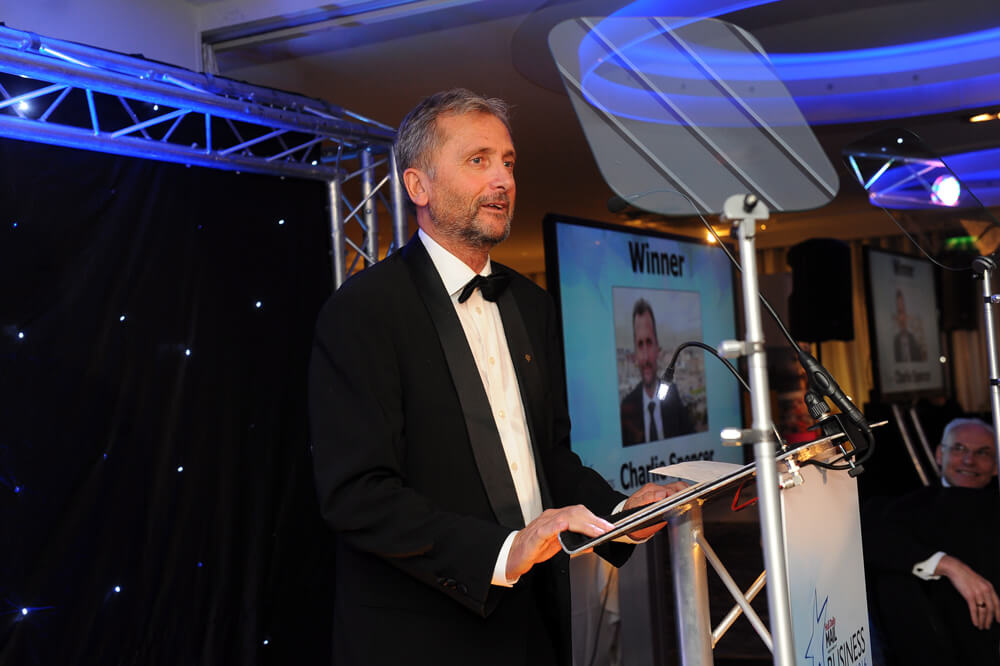 Charlie Spencer paid tribute in his acceptance speech to his family, the Spencer Group workforce and the business community in Hull.
He recalled seeing a picture in the Hull Daily Mail of him looking at a model of the Energy Works power plant, which has been developed by Spencer Group and is currently under construction on the site of a former cocoa mills in Hull. One reader had posted a comment online saying it showed "Charlie and his chocolate factory".
Charlie added: "If you remember, Charlie got a golden ticket and that's how I see this. Getting this award is a golden ticket for my membership of the Hull business community that I respect so much. It's a great honour. Thank you very much."