A year-long programme that was designed to help young people across the Humber region, to launch and sustain their own businesses, has been a resounding success. CatZero's Catalyst programme, which began in April 2015, has seen 17 young unemployed people begin their self-employed journeys.
Hull engineering firm, Spencer Group, supported the initiative with £30,000 of funding to employ a full-time Catalyst Officer, who would provide mentoring to the young people through one-on-one action planning, as well as putting them in touch with partner organisations who could help address their needs. These organisations formed the Catalyst Business Network (CBN) and consisted of business partners from across the Humber region. The CBN was formed to provide professional advice, guidance and support to participants of the Catalyst programme.
The young people were based from CatZero's 'hubs' in Hull, Grimsby and Scunthorpe. Collectively, a wide range of business ideas were generated, from the creation of gaming computers, to setting up a local pet shop. From the 17 participants, 8 found employment, 1 registered their business, 1 increased efficiency of their existing company, 2 went into education or training and 5 began volunteering.
Dave Bertholini, Director of Operations for CatZero commented: "This initiative was only made possible thanks to the tremendous support of Spencer Group, who recognises the difficulties faced by young people in the city who want to start out in business. Spencer Group's commitment to these young people led to the development of the Catalyst programme which has offered mentoring and support to aspiring entrepreneurs.
"As a direct result of this programme, the participants have gained a much clearer idea of how to move forward with their business plans and now understand what is required to run a successful company. We're delighted that some participants have already begun to trade and we look forward to seeing the progress that the other participants make in due course."
To qualify for Catalyst, each member had to have undergone a previous CatZero programme. One such programme was called Blue Sky, which was funded by Spencer and Job Centre Plus. Blue Sky was an intensive 12week course that was aimed at equipping young people with the confidence and skills to setup their own businesses. Catalyst is a natural follow-up to Blue Sky, by taking the participants through the early, difficult period of idea development and market testing to the point where they are ready to launch.
Daniel Brewin, a graduate from Catalyst, is now the Managing Director of Inspire Gifts Ltd – an online bespoke gift company: "The Catalyst programme taught me so many things about how to go about setting up and running my own business. The support was always there and this was particularly appreciated in January of this year when I registered Inspire Gifts with Companies House."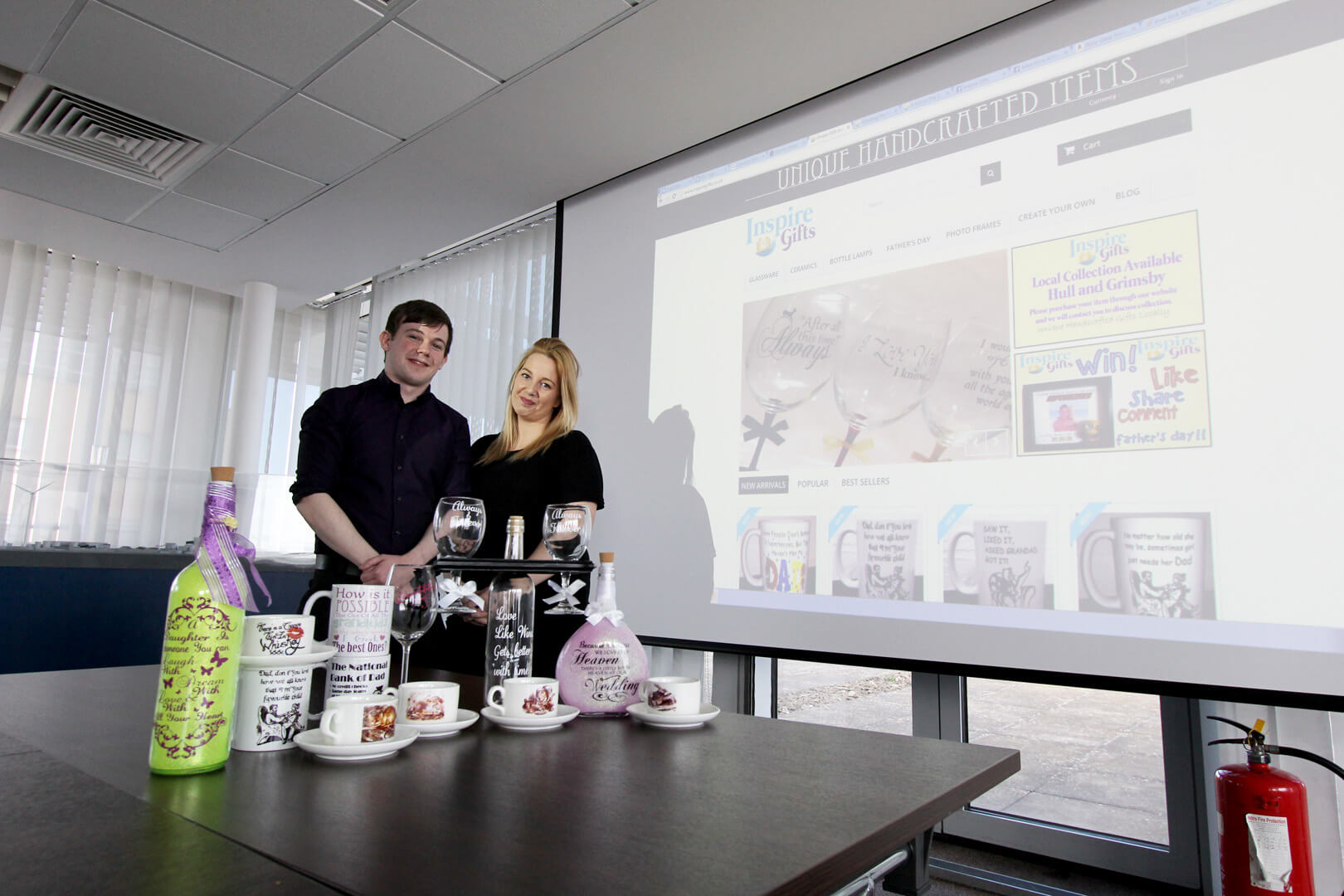 The Computer Network Management graduate started Inspire Gifts with his business partner Rebecca Drinkell. Rebecca's creative talent gives their company a real edge on the competition, enabling their customers the option to create bespoke gifts specifically tailored to suit their needs.
Dan went on to say: "We have been to a few craft fairs and our products have been a real hit! Our website (www.inspiregifts.co.uk) is up and running and doing well; we are also looking at signing up with Amazon to give customers another avenue to our products. In between the digital marketing, we are making a real effort to attend the local craft markets and fairs to boost our name around the Humber region."
Creative Director, Rebecca, is enthusiastic about what the future holds and adds: "Our wedding range has proved to be really popular and we have some big ideas for our other sectors, especially with Father's Day coming up. On top of that, we have been looking at Europe for inspiration and have come up with some really good ideas which we think will be a big hit in the UK."
CatZero's Catalyst programme has just begun its second year with new participants currently being recruited. Dave was full of praise for Spencer Group Founder and Chief Executive Chairman, Charlie Spencer: "On behalf of CatZero and the young people involved I'd like to send our thanks to Charlie Spencer for coming up with the idea and funding the initial scheme."