Business leaders have heard about the remarkable journey from concept to delivery of the pioneering Energy Works power plant.
Spencer Group has steered the project to develop one of the UK's most innovative green energy schemes and is now playing a key part in construction of the £200m energy recovery facility in Hull.
Energy Works is the Humber region's largest current development and interest in the project was illustrated by a packed room of business people for a briefing by Spencer Group Deputy Managing Director Richard Burgess during the new The Business Day event which brought Humber Business Week to a close.
Spencer Group was among the main sponsors for The Business Day, which aimed to place business networking at the heart of a day of discovery and insight for hundreds of business leaders from across the Humber region and beyond. As part of the company's contribution to The Business Day, Spencer Group hosted two breakout sessions focused on key developments within the region – Energy Works and the city's new employer-led Ron Dearing University Technical College (UTC), of which Spencer Group is a Founding Partner.
Mr Burgess told delegates at the Energy Works briefing that the development was "a project driven by passion" and the desire of Spencer Group Executive Chairman Charlie Spencer OBE to deliver a significant scheme bringing a wide range of benefits in the company's home city.
Energy Works will generate electricity locally, for the local community; generate sufficient energy to power 43,000 homes; divert 250,000 tonnes of material annually from landfill; and has created employment for more than 200 people during the construction phase, with more jobs on and off site once the plant is operational.
Mr Burgess said developing an energy infrastructure project on such a scale had proven to be extraordinarily challenging, requiring Spencer Group to overcome a host of hurdles. "We're stubborn, we're entrepreneurially led and we love a challenge," he said. "We deployed the best resources we have within the business to get this over the line."
Crucial to the success of the project was selection of a technology that wasn't in the market at the time, thereby attracting Government subsidy, a £20m grant from the European Regional Development Fund and support from investors.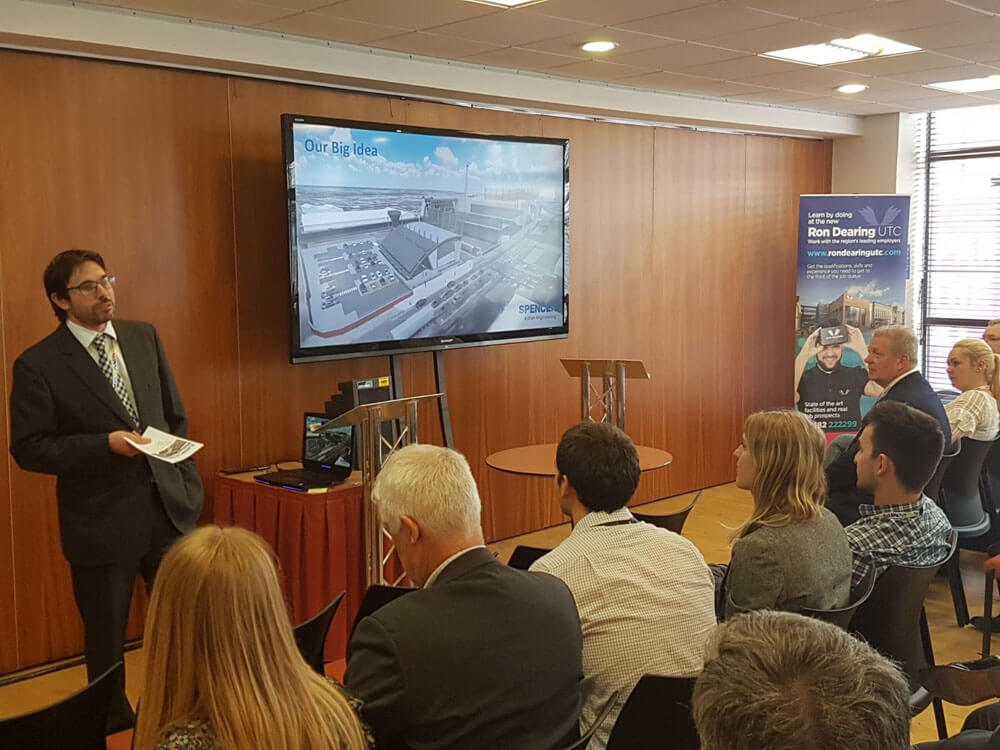 "We did a lot of work into selection of a technology that was both novel and at the level of readiness that we could raise finance behind," he said.
"Energy Works will be the only power station of its type that is developed by a private developer and funded with the mix of finance that we have in place.
"We have got there when many others have failed. The ability to understand the technology all the way through has been critically important to achieving that."
Mr Burgess said Energy Works was due to begin generating electricity in April next year, using an innovative gasification process to produce energy from refuse-derived fuel (RDF) from household and commercial sources.
He highlighted Energy Works' strong green credentials, with the technology supporting effective recycling of materials that could be re-used and extensive measures to ensure there is no negative impact on the environment or local community.
"One of the challenges is to ensure our environmental impact is minimal. We don't want anything that is in any way harmful to the environment," he added.
He also said excellent partnerships forged to take the development forward had been crucial to its delivery, with Spencer Group providing a "bridge" between the stakeholders.
Mr Burgess added: "The ability to glue it all together was very important.
"We have excellent partners – a great contractor on site, a great financial team, a great operations and maintenance provider – and they have stuck with us and helped us through every step of the way."
As well as Spencer Group, The Business Day's main sponsors were East Riding of Yorkshire Council, Hull City Council, University of Hull, KCOM, Welcome to Yorkshire, the Humber Local Enterprise Partnership, Sewell Group and For Entrepreneurs Only. The event was the climax of Humber Business Week, which is Europe's longest-established festival of business.