Business leaders have been given an exclusive preview of a pioneering new employer-led school backed by Spencer Group and urged to create "an amazing legacy of skills, opportunity and business growth".
Employer sponsors of Hull's Ron Dearing University Technical College (UTC) were the first to see the impressive £10m school, which is packed with £1.6m of cutting-edge technology, just a week before the doors open to the first students.
Spencer Group is one of the school's Founding Partner employers and Executive Chairman Charlie Spencer OBE is Chair of Governors.
Ron Dearing UTC is the first school of its kind in Hull and East Yorkshire and is equipped with advanced digital technology matching the very best available to major companies. It has been purpose-designed and built and is equipped with the advice of experts from some of the region's leading employers who are at the forefront of the digital revolution transforming the world of work.
Ron Dearing UTC is backed by the University of Hull and its Founding Partner employers:
KCOM, the Hull-based communications and IT services provider;
RB, the world's leading consumer health and hygiene company, currently investing £105m in a new global Centre for Scientific Excellence in Hull.
Siemens Gamesa, which has invested in world-class wind turbine manufacturing, assembly and logistics operations in Hull;
Smith & Nephew, the global medical technology business with major manufacturing and research and development facilities in Hull;
Spencer Group, the Hull-based specialist engineering business.
It is also supported extensively by Hull City Council, which gifted the city centre site to enable the school to be built. The council also provided initial start-up funding.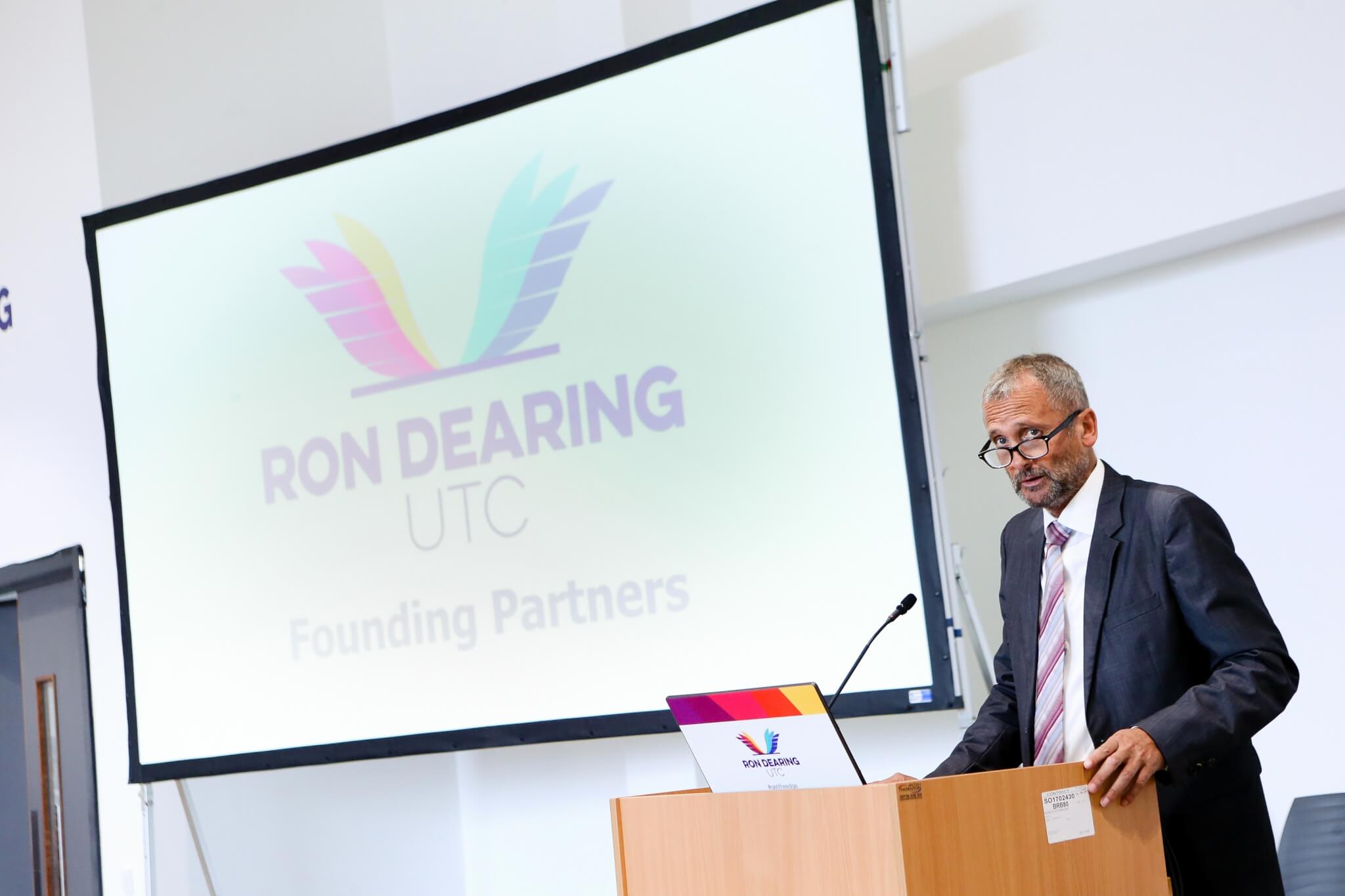 At the preview event Charlie Spencer paid tribute to the contribution of sponsors and partners and urged them to continue their "incredible support and commitment".
He said: "Our future business success depends on having young employees with relevant technical and digital skills and the attitude to succeed.  I'm confident Ron Dearing UTC and its staff can deliver on their part of that challenge. As employers, we have a vested interest in ensuring that they do.
"You can help us to create an amazing legacy of skills, opportunity and business growth. You can make this a school like no other. A place where education and industry meet. A place where future business stars are nurtured and fantastic careers begin."
Ron Dearing UTC is due to open on Monday, September 11, with an initial intake of 230 students aged 14 and 16. It will grow to a capacity of 600 students, aged from 14 to 19, by September 2020.
Ron Dearing UTC will offer a unique curriculum, which combines academic excellence in the core subjects of English, maths and sciences with the opportunity to specialise in digital technology and/or mechatronics – a combination of computing and engineering.
The school's branded learning spaces and facilities include a Spencer Group Innovation Zone. Designed around the concept of a "design office", the innovation zone is a place where projects and ideas come to life. It features 30 hotdesk working areas, within a large central area for independent study, as well as five glass-walled breakout rooms for project-based learning with 55-inch interactive screens.
UTC students will work on real projects designed and delivered by the employer partners, which require them to apply their theoretical learning to a real-life context. In addition, they will study towards a range of professional qualifications demanded by industry and specifically selected by the employer sponsors.
This innovative approach will create a new pipeline of much-needed engineering and technical talent, giving Ron Dearing UTC students the edge in the competitive jobs market.
Principal Sarah Pashley said: "All the technology and learning experiences have been guided by our employer partners to give the students the skills industry needs today and into the future. Our students will use the latest technology to apply their theoretical learning, working on real-life projects set by the employers. Our students will be working alongside our sponsors to solve real problems facing their businesses.
"Ron Dearing UTC students will become familiar with the software used by our employer sponsors, easing their way to employment with those companies. It will mean that when students join those businesses, as we expect many will, they will be working with technology they have used for years."
As well as its Founding Partners, Ron Dearing UTC is supported by a powerful list of Major Partners:
Arco, the UK's leading safety company, based in Hull, which is driving forward a multi-million pounds "Digital First" transformation programme.
Centre for Digital Innovation (C4DI), Hull's acclaimed tech hub.
Fujitsu, the global information and communication technology company.
Sewell Group, the construction, investment, facilities management and fuel and convenience stores business.
Sonoco Trident, the world's fastest-growing and most innovative digital brand management business, also headquartered in Hull.
In addition, Hull-based building repair company AJ Building, Emmerson Kitney, the specialist technical and executive recruitment consultancy, property development and investment company Horncastle Group, and Wykeland Group, the Hull-based regeneration company have signed up as Ron Dearing UTC Partners. Further employer partners and the facilities they are supporting will be revealed when the school is opened officially in November.
Ron Dearing UTC has a small number of places available in Year 12 (age 16) to start on Monday. Students or parents who wish to apply or find out more should call 07590 949951 or e-mail mollerenshaw@rondearingutc.com
The school is also taking applications for places in Year 10 and Year 12 for September 2018.  To apply, go to www.rondearingutc.com and complete an online application form.  Prospective students and parents can also experience the state-of-the-art school and its facilities at an open evening on Thursday, October 5. To register for a place, visit the website.